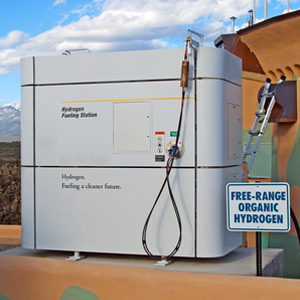 Back in 1998, my oldest daughter Nicole and Merit classmate Joanne were the first students in the world to build a hydrogen fuel cell. They went on tour across the United States to demonstrate how fuel cells work by making ice cream with a machine powered by the fuel cell! Obviously they were the main attraction at their events – everyone loves ice cream! With no moving parts, it's remarkable that hydrogen fuel cells can produce electricity with no CO2 pollution — the only by-product is water!
In 2005, my youngest daughter Jaclyn started Kids 4 Hydrogen, a California non-profit organization to educate the public about 100% clean hydrogen. She was a keynote speaker at the Walt Disney Concert Hall at an awards ceremony honoring then-governor Arnold Schwartzenegger for initiating the California hydrogen highway. She started a movement to educate Americans on how to convert their internal-combustion engine vehicles so they could run on gaseous hydrogen instead of gasoline.
In 2012, Rebecca, a Kids 4 Hydrogen member, wrote the lyrics and Nicole sang the song, "In the Year 2020" to update the public on our environmental dilemma since Zager and Evan's 1969 number-one hit "In the Year 2525." Zohar created the music video. If you're a boomer, you probably remember this classic. Check out the kids' new version in this music video to learn more about how hydrogen can and most likely will become the future energy source.