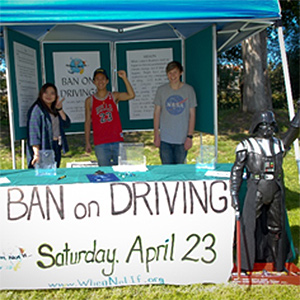 So you're a climate change believer but feel overwhelmed by the enormity of the problem. And what's worse? You feel like driving your little Honda Civic, or NOT driving it, won't impact climate change, right? WRONG! With one billion internal combustion engine (ICE) cars on the road worldwide, our transportation systems are responsible for about 20% of the CO2 problems we face. Yup! That means that if everyone stopped driving vehicles for ONE SINGLE DAY, we would be preventing 29 billion lbs. of CO2 from entering the atmosphere. Just one gallon of gas produces 20 lbs. of CO2. So yes, YOU CAN MAKE A DIFFERENCE!
So here are 3 easy things you can do:
Share this blog post with your family, friends, and co-workers.
Clear your driving calendar for Saturday, April 23rd.
Log on to WhenNotIf.org and click on the "Enter Your Data" page; enter your stats and you're done!
Logan will post how many POUNDS of CO2 we collectively prevent from entering the atmosphere each month. So join Logan and When, Not If!